Post by izakasazaka on Jan 13, 2011 15:47:53 GMT -5
Name
: Izaka Sazaka
Title
: Swordsman of Ozona ; Mercenary of Hextom
Class
: Spellsword / Red-mage
Age
: 26
Race
: Human / Naga
Birthplace
: Desert City of Ozona
Job
: Mercenary / Wanderer
[Affiliation]
Kingdom of Eldon
– Capital City of Ozona
Mercenaries of Hextom
– Second in Command
Encalbossa
– Founding Member
[Appearance]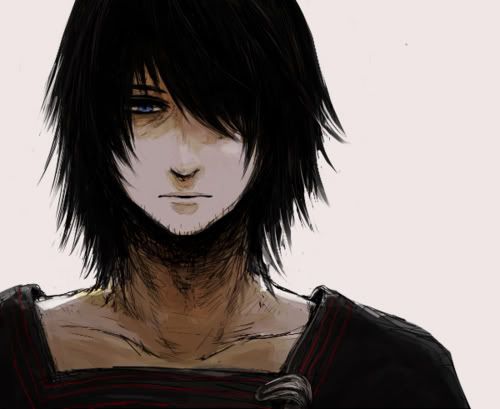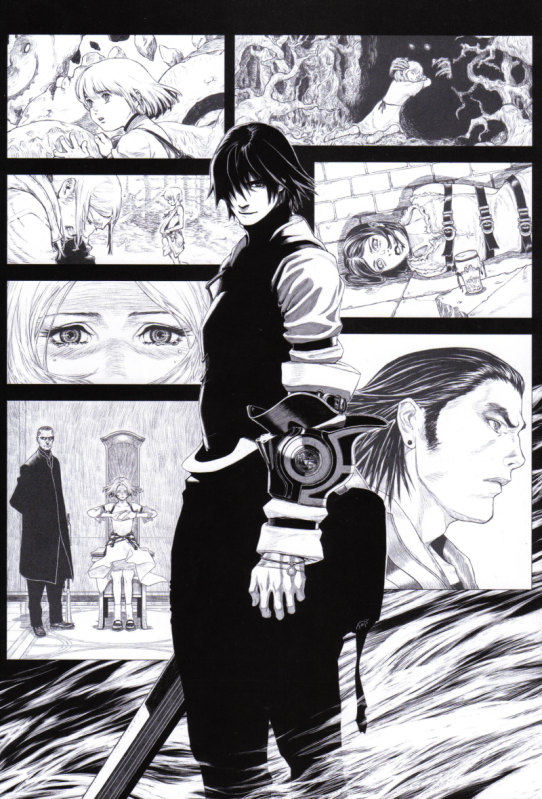 [Weapons]
Bastard Sword – Izaka is proficient in the use of many bladed weapons, but he prefers this weapon above all others. The unique length of its handle means that the blade is balance for quick, single-handed strikes, as well as more powerful two-handed blows.
Knives – Izaka always carries a set of three concealed knives with him. He can use these in conjunction with his sword, or with other knives, but usually they serve him most capably as a magic-infused projectile.
Bow – Izaka is proficient in the use of many different kinds of bows, but does not usually carry them around, when he does, he carries a short-bow for quick accuracy.
Throwing Axe – An item Izaka rarely uses, but always keeps as a pre-caution, this smaller, slimmer version of the normal single-handed war-axe is used as a thrown projectile, though the weight of the weapon makes its accuracy limited.
[Abilities]
Hard Skin – Izaka's naga heritage has gifted him with abnormally hard skin, while not impractically strong, his skin is some-what denser than normal, making it more difficult to cut.
Acid – Izaka's naga heritage has gifted him with the ability to spew acid, this ability is limited to one use per day, and is not normally seen.
Reflex – Izaka has trained his reflexes over an extensive period of time, allowing him to react quickly to varying situations.
Oratory – Izaka is an accomplished speaker, he is able to manipulate conversation in useful ways.
[Spells]
Lightning – Izaka is extremely fond of lightning, and this is his most common spell-set in battle. These attacks can range from bolts raining from the sky to charging specific objects to full on magnetism.
Wind – Going hand in hand with his lightning spells, Izaka is also very comfortable with wind-based spells. His usual method of attack is charging currents around his weapon, or using them in wide shock-waves. He can also use wind magic to limit the weight of the items he carries, making him faster in combat.
Fire – Izaka occasionally uses fire spells, though he not proficient with them. They sometimes act as his ace in the hole, especially in close quarters combat.
Curing – Izaka is not a full on medic, though he does understand the fundamentals of white magic and healing.

[Items]
Steel Breast-Plate – Used to protect his chest from slashes and stabs, it is a durable material of medium weight, making it ideal for the balance skill-set Izaka boasts.
Steel Vambraces – Used to protect the fore-arms and tops of his hands, these items prevent the enemy from cutting off his fingers or otherwise limiting his ability to wield weapons.
Steel Greaves – Used to protect his shins, these items can also be infused with wind magic to allow for sustained glides and higher jumps, though not true flight.
Cloak – Izaka carries a cloak infused with magical runes on its reverse side, making it ideal for blocking out weak magical projectiles, like small fireballs. It cannot, however, resist stronger magical attacks or magical weaponry.

[History]
Izaka was born to a poor family in the city of Ozona in Eldon. His life was hard growing up, his mixed heritage earning him nothing but disdain from the normal citizenry. After scrounging through the first years of his life by stealing and taking on odd jobs to help support the rest of his family, Izaka enlisted in the Ozonanian royal army, leading him to become proficient in many different forms of weaponry.

After serving five years, Izaka was honorably discharged and given his sword and armor as a symbol of his humble service. At this time, he tried to settle down, working for a couple of years as a farm-hand on a large plantation in Zlibel. He was married and started a family, but eventually the lust for battle drove him back into warfare, he left his family without a word, abandoning them in the night.

From here on Izaka went free-lance, becoming a mercenary to support himself, eventually being co-opted into Hextom. It was here that he found his true calling. Forever among comrades of the highest martial caliber, Izaka was able to mature his already fearsome abilities into something truly terrifying.

To this day he faithfully serves the mercenary forces of Hextom, leading them with bravery and courage, a sword forever at his side.